Thread Series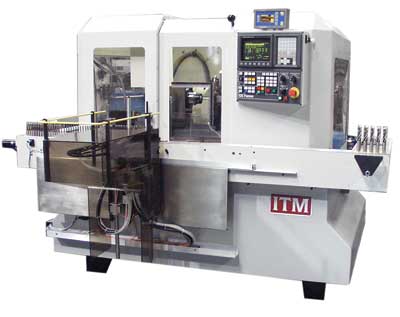 THREAD GRINDERS (THG)
TOOL & CUTTER GRINDERS
ITM holds over 30 patented machine designs


This new concept in grinding machines was developed for the economic grinding of threads for taps, thread rolls, or other parts requiring a thread with or without relief or precision ring grooves (as used on crush rolls for example). The machine uses the latest technology in ball slides, spindles, Fanuc CNC controls and grinding wheels. The machine can be used with conventional wheels, plated CBN wheels, dressable CBN wheels or pre-dressed DIAMOND wheels. The machine can grind with single rib or multi rib dressed wheels when used in conjunction with high-pressure coolant.
This tool grinder is laid out for thread grinding parts from 3mm to 25mm in diameter in a fully automatic cycle using the optional loader or parts up to 50mm in diameter with hand loading. By mounting a second grinding wheel next to the thread-grinding wheel the machine can perform chamfer grinding on taps in the same clamping as the thread grinding operation. For precision grinding, the part is held between two dead centers and driven by a driving plate to which various driving concepts can be adapted.
ITM offers a FANUC CNC control equipped with up to five (5) CNC axes and all AC digital servo drives. The machine has a heavy, welded, stress-relieved base. The Workhead (A axis: Tool rotation), Wheelhead index (U axis: pitch control and dressing position), cross slide (Z axis: Thread Depth), and longitudinal slide (X axis: Thread length) are CNC controlled. For very precise control of the thread pitch and size, rotary glass scales are used on the "U" Pitch Control axis and the "A" Tool rotation axis, and linear glass scales are used on the "Z" and "X" axes. The program capability allows for grinding of virtually all thread types, with or without relief.
For further information regarding ITM's Thread Grinders, please contact us at 386-446-0500.

ITM Tool Grinding Machines are Designed for 24 Hour Production…
7 Days a Week